Join us at
Silverlake Driving School

in Pearland

Our classroom is large and comfortable and each class is presented in an engaging and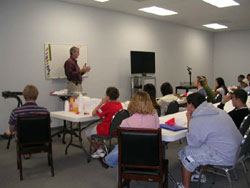 entertaining style.
The TEA Approved 18 to 24 Drivers Ed Class covers:
road rules & signs
sharing the road
basic maneuvers
defensive driving tips & techniques
understanding of reduced risk driving concepts
state licensing, insurance & inspection requirements
basic concepts & driving information deemed helpful for safe operation of a vehicle
A Completion Certificate will be issued upon successful completion of this adult drivers education class.
Applicants who present proof of successful completion of this approved course will not be required to take the written test covering highway signs and traffic laws.
NOTE: Students must still pass the Driving Skills Examination at a DPS Testing Facility.